Mulch Delivery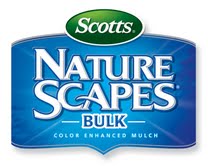 We now sell Scotts Nature Scapes Color Enhanced Brown Mulch in bulk. We can help you determine the amount of mulch you will need to have delivered to complete your project.  Nature Scapes is a natural wood product and not recycled wood.

Scott's will guarantee long lasting color for one (1) year. It also helps prevent weeds when a three (3) inch layer of Scotts Nature Scape bulk mulch is applied to your planting areas. Beautify your outdoor living space and sit back and relax this summer!
We can provide mulch delivery directly to your residence or business for your convenience. We are conveniently located in New Lenox, Illinois near Interstate 355 and Route 6.

We also offer Double Processed Hardwood Mulch, Triple Processed Hardwood Mulch, Play Mat Mulch (ASTM certified), Red Cedar Mulch and Cypress Mulch.
Recycled wood mulch products are available in the following colors:  bright red, black and chocolate brown.

For our customers who want to enrich the soil for their plants, flowers or gardens, we also sell organic mushroom compost. It has a good nutritional value and is an excellent amendment.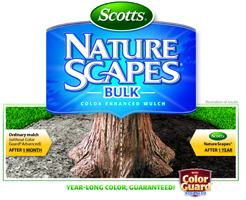 We produce a planting mix soil using mushroom compost, topsoil and torpedo sand. This organic mixture is excellent for creating an environment for a new garden, planting area or to enhance an existing planting area.


Some helpful tips for using mulch:
Schedule your mulch delivery with adequate lead time so we can get the mulch, compost, soil or planting mix to you in a timely manner.
Prepare your planting areas by re-defining the edge, removing any debris from winter and preventive pruning to existing plants.
Spread product evenly and consistently through areas.
Keep mulch at least 2 inches away from tree trunks and plant branches.